Tales of Birbal is be available to watch online until 31st May 2020 to support children & families during lockdown.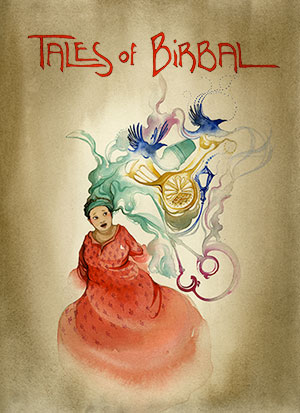 Illustration by Daniela Terrazzini daniela@danielajaglenkaterrazzini.com
TALES OF BIRBAL
Toured May/June 2017 Supported by The Spark Arts for Children
Mashi Theatre toured Tales of Birbal for children, their families and schools audiences. These stories have been treasured by generations across the Indian sub-continent for centuries; now Mashi invites a new generation to unearth the richness in these legends.
How many crows are there in the kingdom?
Which came first, the chicken or the egg?
What is the fastest thing in the world?
Only Birbal knows...
Birbal was a poet and author, but was more widely esteemed for his wit and wisdom in solving problems. Known as one of the Navaratnas or nine jewels of the Mogul Emperor Akbar, many would travel from far and wide to present Birbal with a challenge, to which he would always have an intelligent and amusing response. No one enjoyed this clever banter more than the Emperor himself, who often wore a disguise in order to test the loyalty of his subjects.
The players drawing a hand-pulled rickshaw stumble upon the audience and begin to unpack these ancient tales. Akin to Aesop's fables, the stories are reawakened for a new audience of families and children age 6+ years.
Tales of Birbal is a colourful, inventive, humorous piece, featuring music and puppetry. It will appeal to families, but will be equally attractive to schools as a unique cultural learning resource.
Not currently touring.
Creative Team members for Tales of Birbal include:
Trina Haldar (Director)
Sue Pycroft (Designer)
Arun Gosh (Composer)
Sayan Kent (Writer)
Shipra Jain Khanna (Autumn Tour, 2017)
Medhavi Patel (Spring Tour 2017)
Rina Fatania (2015 tour)
Sukh Kaur Ojla (2015 Tour)
Review from Children's Theatre Reviews
".......is joyful, colourful, vibrant and funny"
Children's Theatre Review on Tales of Birbal, 2017
"Absolutely exceptional. I brought my 6 year old daughter and she was in fits .... at the same time learning so much. I cannot say how much we loved it. "
Audience member, Tales of Birbal 2017, 
 The Alchemy Festival, Southbank
"From puppets to poems and clarinets to cricket, Mashi Theatre was a whirlwind of an experience."
Year 5 Teacher, Leicester