Stripey Honey is Very Yummy
Stripey Honey… is very yummy!
Stripey Honey …. is very Yummy! is a collaboration between Mashi Theatre, Big Imagination and The Spark Arts and supported by The Dukes Lancaster to tour to community venues and libraries in the North West and East Midlands.
Adventure into the Sunderbans, the land between India and Bangladesh, the home of the Royal Bengal Tigers and Honey Bees, as Mashi takes you on a playful journey into the jungle to discover how the tigers, honey collectors and honey bees struggle for survival.
Arusha wants to be a honey collector, just like her father but journeying into the jungle is far too dangerous. Instead she stays in the village helping her partially sighted neighbour.and dreaming of adventures in the forest. If you want some honey, all you have to do is follow the, giant honey bee …. but what happens when the tigers see them coming?
Mashi brings a new play to young audiences of 5 years upwards and their families and friends, of adventure and fun with music by award-winning composer Arun Ghosh, song, dance and puppetry, exploring the lives of some of our most precious but endangered species, who unite to save their homes.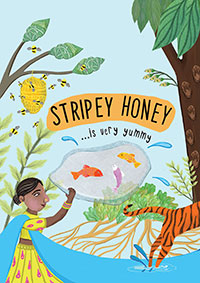 Cover illustration by Baljinder Kaur

BOOKING
FROM THE DIRECTOR
Having visited India numerous times as a child, I was exposed to many different ways of living, which were both challenging and insightful. The "beautiful forest" Sunderban, declared a UNESCO World Heritage Site in 1997, is one of those places. In a world where divisions are on the increase, I want to invite children and their families to another world, deep in the jungle, where borders are undefined, where the Mangrove Forest protects all creatures; the Tigers, Bees and people living together in close proximity. Where the river nurtures life in all its forms and leave children to won- der, what part they might to play, in this sometimes stripey dance!
Trina Haldar
A Big Imagination's commission in partnership with The Spark Arts for Children & supported by The Dukes
2019 Tour
Director:
Trina Haldar
Writer:
Sayan Kent
Designer/Puppet Director:
Sue Pyecroft
Composer:
Arun Ghosh
Musical Arranger:
Matt Marks
Music Director:
Innes Sampaio
Dramaturg:
Sarah Argent
Actors: Sameena Hussain & Chandni Mistry
CSM:
Louise Anderson
Photography:
Pam Raith
Filming:
Nick Rice
Image:
Baljinder Kaur
TESTIMONIALS
"…… the best family theatre we have ever seen!"
Audience member – The Dukes, Lancaster
MASHI THEATRE REVIEWS OF PREVIOUS WORK
"…….is joyful, colourful, vibrant and funny"
Children's Theatre Review on Tales of Birbal, 2017
"Absolutely exceptional. I brought my 6 year old daughter and she was in fits …. at the same time learning so much. I cannot say how much we loved it. "
Audience member, Tales of Birbal 2017, 
 The Alchemy Festival, Southbank
"From puppets to poems and clarinets to cricket, Mashi Theatre was a whirlwind of an experience."
Year 5 Teacher, Leicester
Reviews: Tales of Birbal Children's Theatre Review
BOOKING